Le Puy du Fou ouvre sa 35ème saison.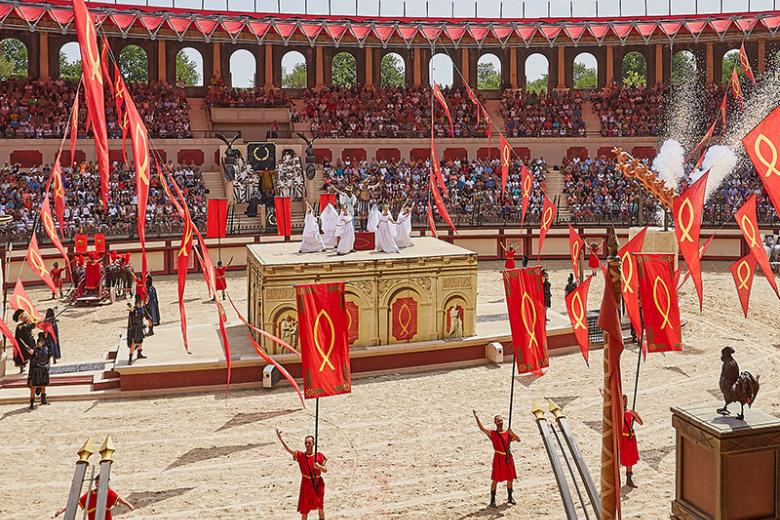 Le Puy du Fou ouvre ses portes ce samedi 8 avril 2023, inaugurant ainsi la 35ème saison de cette aventure artistique hors norme. Après une saison 2022 pleine de réussite, qui marquait la fin de la période Covid et un record historique de fréquentation, le Puy du Fou est ravi de retrouver ses visiteurs pour une année 2023 marquée par la présentation de son nouveau spectacle, Le Mime et l'Étoile.
Un nouveau spectacle grandiose
Le Mime et l'Etoile est un hommage à la Belle Époque et aux pionniers français des débuts du cinéma. L'intrigue se noue dans la France de 1914 : un réalisateur est convaincu que si deux êtres s'aiment d'un amour sincère et réciproque devant l'œilleton de sa caméra, alors le cinéma, noir et blanc et muet, pourra devenir parlant et coloreì. Il organise alors la rencontre entre deux personnages, le mime Mimoza et l'étoile Garance, exhortant le premier à conquérir le cœur de la seconde.
Ce projet monumental, un investissement de plus de 20 millions d'euros, est porté depuis trois ans par les équipes artistique et technique du Puy du Fou, qui ont rivalisé d'audace et d'inventivité pour créer un spectacle réellement inédit en s'aventurant dans un nouveau langage scénographique. Pendant une demi-heure, le spectateur entre physiquement dans un film d'époque, sans écran ni trucage, en vrai noir et blanc. Ce spectacle est muet, conçu à la façon d'un film sous-titré, et le concept du travelling inversé, inventé au Puy du Fou, permet de déplacer le spectacle sur plus de 2km. Le Mime et l'Etoile est un voyage poétique et romantique, un hymne nostalgique à la France du XXe siècle naissant.
Le Mime et l'Étoile en chiffres :
20 millions d'euros d'investissement
Un théâtre de 3800m²
120 rôles
140 tonnes de décors en mouvement
30 minutes de spectacle
Une tribune de 2000 places
Le Puy du Fou plébiscité par le public
Après une saison 2022 record (2,34 millions de visiteurs), le Puy du Fou aborde 2023 avec optimisme, porté par la confiance de ses visiteurs qui le classent n°1 des parcs à thème selon le classement mondial 2022 Traverlers'Choice « Best of the Best » (porté par la plateforme Tripadvisor).
La saison 2023 en chiffres :
20 spectacles, dont un nouveau grand spectacle « Le Mime et l'Étoile »
174 jours d'ouverture du 8 avril au 5 novembre 2023
117 représentations du spectacle nocturne « Les Noces de Feu » (élu « Meilleur spectacle 2020 » lors de la cérémonie des Parks World Excellence Awards à Londres)
28 représentations de la Cinéscénie
Le Puy du Fou, une aventure internationale
La semaine dernière, le Puy du Fou a également lancé sa saison internationale. En Espagne, aux portes de Tolède, Puy du Fou España a ouvert ses portes aux visiteurs, qui peuvent découvrir un nouveau grand spectacle, El Misterio de Sorbaces. Aux Pays-Bas, le spectacle Raveleijn, présenté par les Talents de Puy du Fou Nederland, a entamé sa 11ème saison au sein du parc Efteling.
Grâce à son audace artistique et des investissements continus (plus d'un milliard d'euros a été investi dans ses nouvelles créations artistiques depuis 35 ans), le Puy du Fou connaît une progression constante depuis sa création et prépare déjà l'ouverture d'autres Puy du Fou dans le monde dans les prochaines années.